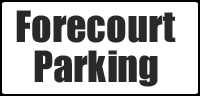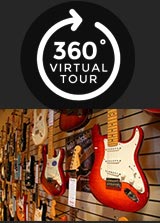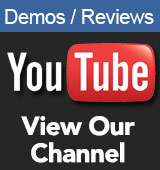 Opening Times
Mon/ Fri/ Sat
9.00am - 5.30pm


Tue/ Wed/ Thur
9.00am - 8.00pm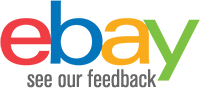 Contact Us
Sales

01772 722468

Email:

sales@achamilton.co.uk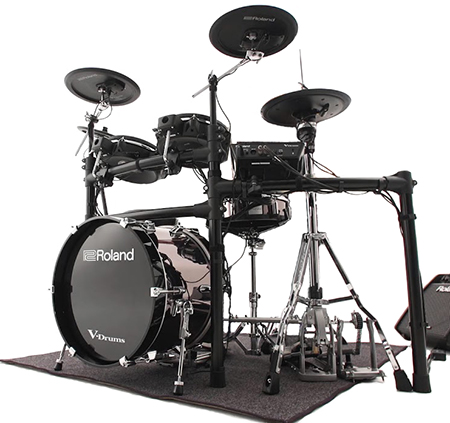 Roland Roland TD-25KVX V-Drum Kit
£3288.00 RRP £4039
Available to Order
Estimated delivery Call 01772 722468 for confirmation
Example Deposit: £328.80
Below are example finance options available for you. The deposit amount is adjustable at checkout to suit you.
12 Months 19.9% APR - £271.70 P/M
24 Months 19.9% APR - £148.14 P/M
36 Month 19.9% APR - £107.40 P/M
PRESENTING THE ALL NEW ROLAND TD-25KVX V-DRUMS KIT
Price does not include any hardware or speaker systems pictured.

THE ARTIST COLLECTION UNIQUE TURBOSTICK
The Artist Collection is A&C Hamiltons exclusive debut into custom Artist and Song specific drum patches for use with the SuperNATURAL TD-25 and TD-30 V-Drums modules. Presenting incredibly realistic drum sounds for all of your favourite play-along tracks and artists. This A&C Hamilton exclusive product comes FREE with the purchase of any TD-25 or TD-30 V-Drums kit. The Artist Collection comes pre-loaded onto one of our unique USB Turbosticks that is easily assignable to any spare User Kit on your Roland TD-25 or TD-30 module. From Artists such as Clean Bandit and You Me At Six; all the way to ABBA and Metallica; and many more! For more information on this unique product, check out our demo videos for The Artist Collection in our Videos tab or call us today and speak to our Drum Specialist.
Dynamic, Expressive Playability and Quick Customisation
Serious drummers can tap into high-end V-Drums playability in a mid-level kit for home and studio that is found in the TD-25KVX. The TD-25KVX comes equipped with a sound engine that is derived from the flagship TD-30. The TD-25KVX delivers all the acclaimed expressiveness that makes Rolands top-line V-Drums the undisputed choice of pro players everywhere. A streamlined interface makes it easy to create personalised kits, while the built-in audio recording function lets you capture drum performances for evaluation and sharing. Other premium features include mesh-head pads for a natural feel, positional snare sensing for enhanced expression, and the VH-11 V-Hi-Hat for playing with authentic hi-hat techniques. The KD-180 Bass Drum features an 18-inch genuine acoustic shell with built-in pad system, which delivers incredible acoustic feel and distinctive 'acoustic kit' looks.

UNRIVALED SOUND AND EXPRESSIVENESS - ROLAND TD-25KVX
Thanks to Rolands SuperNATURAL technology with Behaviour Modelling inherited from the flagship TD-30, the TD-25KVX delivers a superior drumming experience. The sound engine responds naturally and organically to your playing in every way, providing the dynamic, interactive feel thats essential for reaching the highest levels of musical expression. From rim shots, rolls, flams, and ghost notes on the snare to dramatic crash hits and sustained cymbal swells, every nuance is detailed, accurate, and ultra-smooth.
HIGH-END FEEL AND PLAYABILITY - ROLAND TD-25KVX
You'll enjoy expressive playability that rivals high-end V-Drums sets when you sit down at the TD-25KVX. The 12-inch PD128S-BC and the three PDX-100 tom pads will make acoustic players feel right at home and provide a great playing feel. There's a full compliment of Roland's 2-ply mesh head pads for that legendary V-drums feel, with positional sensing on the snare pad that provides subtle, organic tonal changes depending on where that pad is struck. The cymbals have a natural swinging motion and support chokes, bow/edge sounds on the crashes and bow/edge/bell sounds on the ride. Mounting on a standard hi-hat stand the VH-11 V-Hi-hat features open/closed motion and bow/edge sounds for executing traditional playing techniques to perfection.
KD-180 Bass Drum Enhances Acoustic Feel and Strong Visual Presence
There's no denying the satisfying feel and onstage presence of an old school bass drum. If you love the feel of your acoustic kick, the KD-180 will feel instantly familiar, thanks to Roland's innovative air-damper mechanics that work alongside the 18-inch acoustic shell to 'move air'and provide resistance as the beater hits the head. Meanwhile, the KD-180 makers a visual statement on any stage. It provides stable, consistent and accurate triggering and is fully compatible with double kick pedals.
CALL UP KITS AND START PLAYING IMMEDIATELY - ROLAND TD-25KVX
The TD-25KVX's sound module lets you enjoy playing great sounds for any music right away, with its no-nonsense interface. Easy to grab while holding sticks, the large center dial allows you to quickly select kits based on music styles such as standard, rock, jazz, electronic, and others. After you've selected a style, press the dial to toggle between different kit variations. Next step? Start playing!

CUSTOMISE KITS FOR YOUR PERSONAL STYLE - ROLAND TD-25KVX
The TD-25KVX makes it simple to edit sounds to suit your playing touch or a specific style of music. Just hit a pad to call up the sound assigned to it, and then use the modules knobs to select instruments and tweak tuning, muffling, and levels. Handy shortcuts greatly speed up tom editing, allowing you to assign sounds and change the muffling and tuning for all the toms at once. Your changes are saved automatically as you edit, eliminating the need to fuss with extra steps. If you don't like your most recent tweaks, you can easily undo them and return to where the kit was at when you first selected it.
PLAY ALONG WTH TRACKS AND RECORD AUDIO PERFORMANCES - ROLAND TD-25KVX
Want a little jamming music to play along with? Just load up a USB memory stick with favorite WAV/MP3 songs and get lost in playing for hours. In addition to normal playback, you can loop sections you'd like to work on, or slow the playback speed to more easily learn fast fills and articulations. Alternately, you can plug a smartphone into the audio input and drum with songs from your music library or the web. Its also possible to record your drumming performances (along with music playback) as audio files to a USB memory stick, offering a great way to evaluate your playing and share your drumming with friends and music producers. The sound module is equipped with a USB host port as well, providing a convenient connection for recording audio and MIDI data directly into DAW software.
For more information on our V-Drums range, please call A&C Hamilton on 01772 722468, and speak to our Drum Specialist Matthew.
ROLAND TD-25KVX SPECIFICATIONS
Module
TD-25 Module powered by 'SuperNATURAL'
6.3mm Headphone Socket with Volume Control
Left & Right 6.3mm Jack, Main Outputs (Mono Output also available)
6.3mm Stereo Jack "Mix-In" for iPod/Laptop etc input
MIDI Out/Thru Outputs for use with External Samples and any DAW
USB Connectivity for Computers, Laptops, iPhone/iPad
USB Memory Bank for saving User pre-sets and playback of User song
Drum Pads
V-pad (snare): PD-128-BC x 1
V-Pad (tom 1, tom 2, tom 3): PDX-100 x 3
V-Hi-Hat: VH-11 x 1
V-cymbal (crash): CY-12C x 2
V-cymbal (ride): CY-13R x 1
Kick Drum: KD-180 x 1
Drum Stand: MDS-9SC x 1
Extra Trigger Input Jacks
Accessories
Options(sold separately)
cymbal mount: MDY series
Pad mount: MDH series
Personal drum monitor: PM series
Stereo headphones: RH-300V
V-Drums accessory package: DAP-3X
V-Drums mat: TDM-10, TDM-20
Size(including MDS-9SC stand)
Width
1,300mm
51-3/16 inches

Depth

1,200mm
47-1/4 inches

Height

1,250mm
49-1/4 inches

Weight(including MDS-9SC stand)

Weight