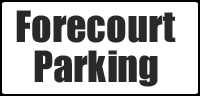 Opening Times
Mon - Sat
9.00am - 5.30pm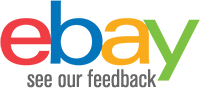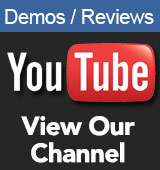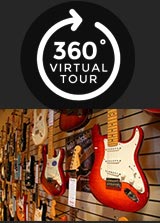 **We are here for online sales and product support - just call 01772 722468**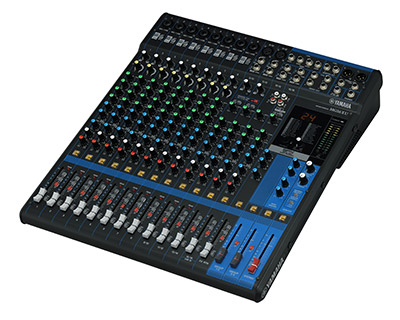 Yamaha MG16XU Refurbished
£329.00 RRP £523
2 In Stock

Pay Monthly
Deposit From £32.90
12 Months 9.9% APR - £25.95 P/M
24 Months 9.9% APR - £13.59 P/M
36 Months 9.9% APR - £9.48 P/M
The MG16XU is a versatile and high quality 16 channel mixing console perfect for bands and studio work looking for high quality sound and a good selection of inputs. Built in FX offers high quality delay and reverb effects for vocal processing, "D-PRE" mic preamps with an inverted Darlington circuit for incredible mic quality and even built-in 2 channel USB audio interface.
Refurbished MG16XU
Our MG16XU is in excellent condition with original box as well and came direct from Yamaha. It is fully tested by us and Yamaha and ourexperts to ensure you will be 100% happy on its arrival.
Main Features
16-Channel Mixing Console
Max. 10 Mic / 16 Line Inputs (8 mono + 4 stereo)
4 GROUP Buses + 1 Stereo Bus
4 AUX (incl. FX)
"D-PRE" mic preamps with an inverted Darlington circuit
1-Knob compressors
High-grade effects: SPX with 24 programs
24-bit/192kHz 2in/2out USB Audio functions
Works with the iPad (2 or later) through the Apple iPad Camera Connection Kit / Lightning to USB Camera Adapter
Includes Cubase Al DAW software download version
PAD switch on mono inputs
+48V phantom power
XLR balanced outputs
Sound Quality
Yamaha excel in their class for sound. Products are distributed using the same high quality components you would find in their top of the line desks so you can be sure the processing, effects and whole route for the audio from start to end is processed with quality components and top class sound in mind.
D-Pre Technology
This is where it all starts. Everything you do as a sound engineer is dependent on the quality of your preamps, which determines the direction your mix will take, and ultimately how good it is going to sound. MG Series mixing consoles feature Yamaha's studio-grade discrete class-A D-PRE preamps, which utilize an inverted Darlington circuit comprising two cascading transistors in a configuration that provides more power with lower impedance. Delivering fat, natural sounding bass and smooth, soaring highs, with very low distortion, D-PRE pre-amps possess an impressively wide frequency range that allow them to handle signal from any audio source without overly amplifying any specific elements of the sound. Having such a pure sonic platform to build on will ultimately save you time and effort by eliminating the need for excessive EQing or additional effects processing in order to "fix" your mix.
EQ and Filters
There's nothing more useful than reliable equalization when you need nuanced management of your tone. The MG Series benefits from Yamaha's unparalleled experience in designing pro audio gear, featuring 3-band equalizers on all mono channels for precise control of your sound. High-pass filter allows you to eliminate unwanted low-frequency noise, for a smoother, cleaner mix.
Built-In Compressors
Compression plays an essential role in just about any recording or sound reinforcement environment by altering the level of dynamics of an audio signal when you need livelier guitars, punchier bass lines, a tighter snare, or a cleaner vocal sound. However, it can take countless hours to master the complexities of even the most basic outboard compression units and use them effectively. Originally a Yamaha innovation, 1-knob compressors are now an industry standard that gives you instant access to optimized compression settings via a single rotary control.
Inputs And Outputs
feature high-quality Neutrikô balanced XLR connectors on mono microphone/line channels and XLR equipped stereo channels. Each of the mono inputs is equipped with combo jack and accepts both MIC and LINE level signals. Two of the stereo inputs are equipped with XLR and two phone connectors with XLR accepting MIC level signals while two phone connectors accepting LINE level signals and can be used either mono or stereo. (except for 10ch model) The function of another two stereo channel vary depending on model: With 20ch model, XLR accepts MIC level signal and two RCA connectors accepts LINE level signals and can be used either mono or stereo. With 16ch and 12ch models, two phone connectors accept LINE level signals as stereo. Additionally, each of the stereo channel features 2TR in (RCA connectors) and can be used as independent input from external audio sources such as CDs. 10ch is equipped with additional stereo channel with a pair of phone jack that accepts LINE levels. With XU models, any incoming source that are sent via USB can be assigned to one of the stereo channel. In addition to the main stereo outputs (XLR L/R, TRS phone L/R), MG Series mixing consoles are equipped with a comprehensive suite of output connectors, including GROUP OUT (TRS phone), AUX/FX OUT (TRS phone), MONITOR OUT (TRS phone L/R), and HEADPHONE OUT (stereo phone) connectors, allowing master outputs to be chosen to suit specific applications such as monitoring or mastering.