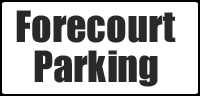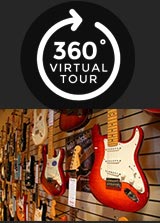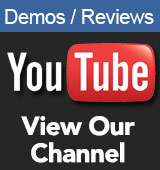 Opening Times
Mon/ Fri/ Sat
9.00am - 5.30pm


Tue/ Wed/ Thur
9.00am - 8.00pm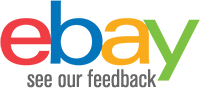 Contact Us
Sales

01772 722468

Email:

sales@achamilton.co.uk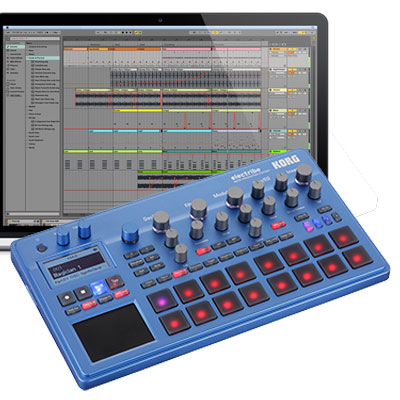 Korg EMX2 Music Production Station Blue
£339.00 RRP £448
1 In Stock
Example Deposit: £33.90
Below are example finance options available for you. The deposit amount is adjustable at checkout to suit you.
12 Months at 9.9% APR - £26.74 P/M
24 Months 15.9% APR - £14.77 P/M
36 Months 15.9% APR - £10.55 P/M
Updated And Enhanced Super Fast Beat And Pattern Production - EMX2-BL
Produce beats and patterns, faster and better than ever before with the Electribe EMX2 - now in a cool metallic blue finish. Analog oscillators and high quality PCM samples can be looped and modified using the built-in 16 track pattern sequencer. Up to 32 insert effects can be used for modulating, processing and mastering your musical creations and then everything can be exported to audio or even multi-track Ableton live format. this is a true production workstation with huge creative possibilities.
Korg Electribe EMX Evolved
The EMX production module is the ultimate way to produce beats and patterns for live or studio use. Using high quality PCM sounds and analog oscillators you can create the sounds you desire and lay them down in the 16 track pattern sequencer with ease. 16 Touch sensitive pads allow you to play the individual tracks sounds or can be used for additional features such as playing chords, muting tracks etc for complete live or recording control. Within seconds you can start laying down drums, bass, synths etc and build up your patterns.

Real-Time Controls - Instant Editing
A plethora of hands on controls gives you total control over the sounds, filters and effects. Choosing from the huge amount of sound whether it be analog or PCM digital you can create your desired sound with ease. Controls include Oscilator type, pitch, filter resonance and cutoff with filter selection, modulation controls, Amp EG and even effects selection with quick parameter change dial.
X/Y touch Pad
A square touch pad on the left side of the unit allows you to modify parameters with the swipe of a single finger in an X-Y grid formation. Features Include:
Gate Arp mode: Ideal for inputting bass riffs or hi-hat parts with a sense of groove. While playing the trigger pads or the touch pad, you can use the gate arpeggiator to generate rhythmically detailed notes.
Touch Scale mode: Simply by moving your fingertip over the touch pad as on the Kaossilator, you can freely produce phrases according to the specified scale/key settings.

Trigger Pads
16 Velocity sensitive pads offer a range of ways to create and control your music. In sequencer mode they can act as a step sequencer for easily creating beats whilst in keyboard mode you can use them for triggering sounds as if you were playing keyboard keys. Th chord mode turns each pad into a chord depicted by the key/scale settings. With each of its modes there are endless creative possibilities.
Pattern Recording
The electribe allows you to input up to 64 steps (16 steps x 4) for each part (sound). You can create beats by combining up to 16 of these parts per sequence pattern.
The step sequencer of the electribe allows extremely intuitive pattern production. The 16 trigger pads and the touch pad with XY control provide a variety of modes that instantly reproduce the phrases created by your ideas, allowing rhythms and phrases to be input without requiring musical knowledge.

Ableton Live Lite 9 Bundled
All your musical creations can be stored in numerous ways direct to SD card. This includes Ableton Live format files and audio files. Included with the Electribe EMX2 is a downlaod code for Ableton Live Lite 9. This great starting bundled allows you to get involved with the finer details of your creations with the benfits of computer music production.
Free Electribe Bonus Patterns
Download over 200 professionally created bonus patterns. Make use of the new patterns, ideas and add a new flavour to your creations.
New System Upgrades
New firmware upgrades add new features to the electribe's already vast capabilities. The Latest System Version 2 adds a chain function for linking patterns together as well as an undo function, and support for original value display.

Sync Audio And MIDI Devices
Fully equipped with MIDI and sync connections, the EMX2 can be synchronized to just about anything! Own a Volca or anything with a Sync/ CV gate? No problem, these can be linked up and synchronized with the sync socket. It is also possible to link via MIDI clock through the MIDI connections. There is also an audio input on the rear panel which allows you to connect an input source - by connecting an external device and selecting the "Audio In" oscillator, you can use the filter or effect to process the external audio input, or energize your performance by using the step sequencer to turn the output on/off.
Electribe EMX2-BL Technical Specifications
Sound System
Type: Analog modeling sound engine + PCM sound engine
Maximum Polyphony: 24 voices
* The polyphony of the entire pattern varies depending on the Oscillator, Filter, and Insert Fx type.
* Independent parameters for each voice have been simplified; four voices share the parameters of one conventional voice.
Oscillator: Type (409), Pitch/Glide, Edit
Oscillator Types: Kick (56), Snare (58), Clap (16), HiHat (42), Cymbal (14), Tom (16), Percussion (55), Voice (16), Synth FX (18), Synth Hit (18), Inst Hit (16), Synth (55), Instrument (28), Audio In (1)
Filter: Filter (Cutoff), Resonance, EG Int, LPF/HPF/BPF (16)
Modulation: Type (72), Depth, Speed
Amp/Envelope Generator: Level, Pan, Attack, Decay/Release, Amp EG On/Off
Scale Types: 35
Gate Arpeggiator Types: 50
Sampling Frequency: 48 kHz
AD/DA Conversion: 24 bit
Effect
Insert Effect: One unit (can be used on each of the 16 parts)
Type: (38), Edit, Insert FX On/Off
Master Effect : One unit
Type (32), Touch Pad, Master FX On/Off, Master FX Hold On/Off
Sequencer
Number of Steps: 16 steps x 4
Number of Parts: 16 parts (one part consists of a sound, steps, insert effect, modulation sequence, etc)
Number of Patterns: 250 patterns (200 Presets / 50 Initial) (one pattern consists of parts, master effect, key, scale setting, etc)
Motion Sequences: Up to 24 motion sequences can be stored (for each pattern)
Groove Types: 25
Pattern Set: Up to 64 patterns can be stored
Pattern Chain: Up to 250 patterns can be chained
Export: Ableton Live project file format, WAV file format (48 kHz, 16 bit)
Event Recording: Up to 100 files can be saved
Trigger Pads
Number of Pads: 16 pads (Velocity sensitive)
Modes: Trigger, Sequencer, Keyboard, Chord, Step Jump, Pattern Set
Touch Pad
Modes: Gate Arp, Touch Scale, Master FX
Connectors
Audio: L/Mono, R Output (Standard phone jack) / Headphones (Stereo mini jack) / Audio Input (Stereo mini jack)
MIDI: In, Out (Use an included MIDI adapter cable)
USB: Type micro B
Sync: In, Out (Stereo mini jack)
External storage
Storage Medium: SD Card (512 MB -- 2 GB), SDHC Card (Up to 32 GB)
Power
Power Supply: AC adapter (DC 9V) or AA battery x 6 (Alkaline battery or Nickel metal hydride battery)
Battery Life: Approximately 5 hours (Power Saving: ON, with Nickel metal hydride battery)
Current Consumption: Less than 500 mA
Dimensions/ Weight
Dimensions: 339 x 189 x 45 mm / 13.35" x 7.44" x 1.77"
Weight: 1.6 kg / 3.53 lbs