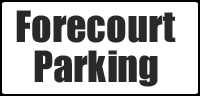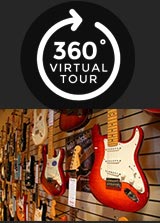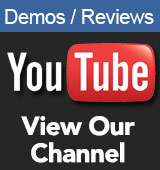 Opening Times
Mon - Sat
9.00am - 5.30pm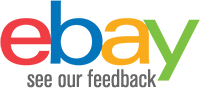 Contact Us
Sales

01772 722468

Email:

sales@achamilton.co.uk
**We Are Fully Open - Instore and Mail Order**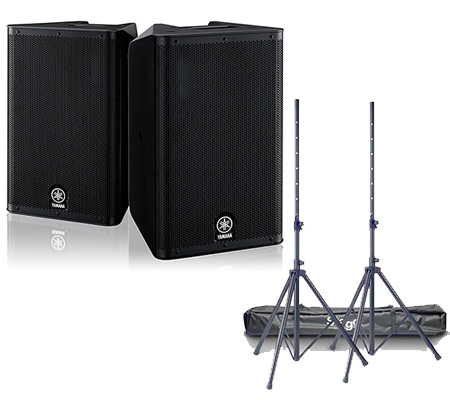 Yamaha DXR10 Speakers and Speaker Stands
Bundle currently not available. However Bundle componants may be in stock
This DXR10 bundle is the ideal portable amplification solution. The DXR10 speakers offer a huge 1100w output per speaker with clever sound processing technology to make sure you get the best possible sound all the time. Each speaker has 3 inputs with their own volume controls and the pair can be linked via a single XLR cable for true stereo sound. The output is loud enough for many different venues such as pubs, bars, clubs, schools and more. The additional speaker stands are solid, sturdy and height adjustable plus they come with a free bag for transportation. For complete peace of mind the DXR speakers have a 7 year warranty (registration required) giving you confidence they will perform when you need them.
High Definition Sound
As you would expect with the Yamaha brand, the DXR10 speakers offer a top class sound with crystal clear top end and smooth bass end coverage. There are many intelligent technologies built in which are designed to produce the best tonal quality, smoothest volume control and reliability/ protection. Features such as 24bit converters and 48bit DSP processing produce stunning clarity whilst the built-in protection system stops the amplifier and speaker from overload and potential damage.
Yamaha's development team took full advantage of a number of advanced digital technologies, both new and refined, based on their extensive experience accumulated over many long years of developing professional audio equipment. Everything from the detailed management of crossover, EQ and time alignment to the limiter settings, protection functions and precise dynamic control of the sound, was subjected to endless simulation, in-house and field testing to ensure that these speakers produce the highest level of sound quality at the highest output levels possible. Combined with Yamaha's advanced analog signal processing and acoustic technologies, the "Power of "D" delivers ultimate performance.
Class D Amplifier
The specially designed Class D amplifier is not only engineered to offer incredible output power but it was designed to specially match the LF an HF speakers to give the best possible sonic response and top class efficiency.
FIR-X Tuning
FIR-X tuning simultaneously optimizes frequency and phase response while adjusting the time alignment between the HF and LF transducers. This creates a very smooth response around the crossover point, providing much better clarity and imaging than what is possible with typical crossovers.
D-Countour - FOH/ Monitor Options
D-CONTOUR is a self controlling EQ control system. It is designed to offer the optimum EQ of the sound no matter what the volume. It does this by analysing the frequencies and making tiny adjustments as needed to keep speaker sound at its optimum.
In the DXR10 there are 2 choice of D-Contour modes: FOH/ MAIN mode or MONITOR mode. FOH/MAIN mode boosts the bass frequencies for a richer sound. It helps compensate for reduced bass usually found during mounting/hanging or speaker stand mounted situations. MONITOR mode is designed for floor monitor application by ensuring a sharp and clean sound for optimum clarity on stage.
Extensive DSP Protection
The DXR10 speakers are designed to last even when pushed to their limits. A microprocessor and high-power DSP monitor the status of the power supply, power amplifiers, transducers and ongoing signals to protect all aspects of each component. As a result, these speakers can perform to their full potential while ensuring reliable operation.
In-Built 3-Channel Mixer
An onboard 3 channel mixer with a variety of inputs means you can make the most of the system without the need for a mixer. Inputs include an XLR input for mic/line on the first channel, 2x L/R Input jacks on the second channel and 2x RCA on the third. There is even a line out to mix the stereo or mono signal direct to another DXR speaker for true stereo performance.
Link Perfectly With a Subwoofer - HPF Filter
A switchable HPF (High Pass Filter) on the rear panel removes the bass frequencies below the selected point so they can perform to their maximum potential when connected to a subwoofer. The subwoofer can then handle its low frequencies whilst the DXR10 ensure top class sound by dealing with only the frequency bands it needs to.
Durable Cabinet Design
The cabinet is made from a non-resonant ABS material designed to dampen vibrations caused by high output levels. The sturdy enclosures have a heavy-duty steel front grilles and ergonomic, gripped aluminum handles.
Dual-Angle Pole Mount Socket
Depending on the venue, sometimes your mix can fall prey to low ceilings or other room attributes that can impede a clear, even mix and detract from the audiences' listening experience significantly. The DXR's pole mount socket offers two positions-0 degrees and 7 degrees-to direct the acoustic energy away from reflective surfaces and on to your audience where it belongs.
Adjustable Speaker Stands
The tripod speakers stands are lightweight, durable and come with a transport bag for easy transportation. The stand offer a number of height adjusted positions and the pole has multiple holes in it for the support brace that is simply pushed in to ensure they can not collapse when in use.