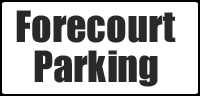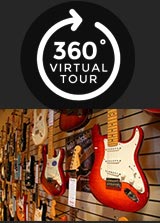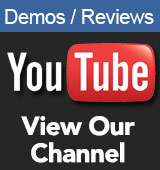 Opening Times
Mon/ Fri/ Sat
9.00am - 5.30pm


Tue/ Wed/ Thur
9.00am - 8.00pm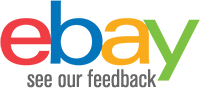 Contact Us
Sales

01772 722468

Email:

sales@achamilton.co.uk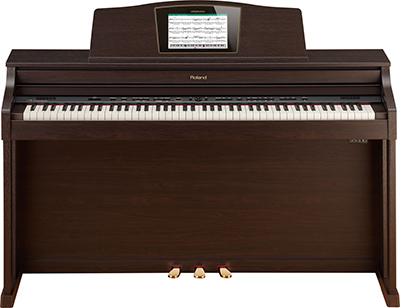 Roland HPi-50ERW
£2308.99 RRP £2539
Available to Order
Estimated delivery Call 01772 722468 for confirmation
Example Deposit: £230.90
Below are example finance options available for you. The deposit amount is adjustable at checkout to suit you.
12 Months at 9.9% APR - £182.19 P/M
24 Months 9.9% APR - £95.39 P/M
36 Months 15.9% APR - £71.88 P/M
Learn, play and explore music like never before with the Roland HPi-50E digital piano. Rolands SuperNatural sound technology tansies at the forefront of this magnificent piano and is further enhanced with the use of the Acoustic Projection Audio system which surrounds you in wonderful crisp quality audio. A Large hi-res LCD display in the music rest helps players learn and play along by displaying sheet music on the screen along with other facilities including sound choices and piano designer for creating your own custom piano sound to suit your exacting needs. The HPi-50e is a truly beautiful instrument.
All About The Piano
The HPi-50e features Roland's SuperNATURAL Piano sound engine for seamless velocity response, natural note decay, and authentic key-range behavior, delivering perfect piano sound and expression. The idea is that when playing one of these instruments you feel as close to playing the real instrument as possible without the compromise of the original acoustic instruments such as the loud volume restraints and tunings that need to be performed on the originals. The HPi-50E requires no tuning, can be played quite or with headphones, or even a s loud as you like as well. At the end the result is a piano that any level of pianist would be proud to perform on.
Roland have combined their exacting piano standards with a superb PHAIII synthetic ivory piano action. The touch and response of the keys is true to that of a real grand piano with great feedback and dynamic control.
Large LCD Display
Learning to play an instrument has never been so much fun. HPi-50e is equipped with a large colour LCD display right in the middle of the music rest. There are nearly 400 internal songs, including popular études such as Czerny 100 and Hanon, plus classical masterpieces and popular songs for which the sheet music can be displayed in crystal clear view on the large screen. With the advanced technology you can play along and take out parts of the music for you to play along with.
Included is a fun game for helping learn about pitch and establishing your ear for music. The game plays a note on the piano and then you have to guess which note was played. The screen will show which notes are right or wrong and will score you - its fantastic fun!
Record And Perform
As well as having in-built songs, the HPi-50e is capable of playing back audio and MIDI files for you to perform along with. If inspiration strikes the HPi-50e can also record your performance as a real audio file or MIDI sequence for building up your songs track by track.
Keyboard: 88 keys (PHA-4 Concert Keyboard: with Escapement and Ebony/Ivory Feel)
Keyboard Mode: Whole / Dual (volume balance adjustable) / Split (split point adjustable) / Twin Piano
Pedals: Damper (Progressive Damper Action Pedal, capable of continuous detection)
Soft (capable of continuous detection, function assignable)
Sostenuto (function assignable)
Piano Sound: SuperNatural Sound technology
Sound Selection:
Piano: 16 tones
E. Piano: 10 tones
Vibraphone: 6 tones
Strings: 11 tones
Organ: 13 tones
Voice: 9 tones
Pad: 5 tones
Guitar/Bass: 6 tones
Winds: 6 tones
Drums: 10 tones (9 drum sets, 1 SFX set)
GM2: 256 tones
Tranpose: Key Transpose: -6 to +6 (in semitones), Playback Transpose (including audio files): -6 to +6 (in semitones)
Effects: Ambience (0 to 10)
Brilliance (0 to 10)
Only for piano tones (Piano Designer):
Open/close lid (0 to 6)
Hammer Noise (1 to 5)
Damper Resonance (0 to 10)
Duplex Scale (0 to 10)
String Resonance (0 to 10)
Key Off Resonance (0 to 10)
Cabinet Resonance (0 to 10)
Soundboard Behavior (0 to 10)
Damper Noise (0 to 10)

Only for organ tones:
Rotary Speaker Effect (Slow/Fast)
SMF Recorder
Tracks: 3
Format Standard MIDI Files (Format 0)
Storage: Recorder section: 1 song, Internal memory: Max. 200 songs
Record method: Replace / Mix
Controls: Song Select
Play/Stop
Rec
Rewinding
Fast-forwarding
Reset
Track Mute
Mute Volume
Tempo
Tempo Mute
All Songs Play
Count-in
Song Balance
AB Repeat
Edit Features: Copy
Insert
Delete
Erase
Part Exchange
Quantize
Transpose
Note Edit
PC Edit
Notation Mark
Key Signature
Beat Map
Audio
Playable Format: Audio files (WAV format, 44.1 kHz, 16-bit linear)
recording Format: Audio files (WAV format, 44.1 kHz, 16-bit linear)
recordingSources:
Keyboard
SMF data
Audio from Input jacks
Transpose: Playback Transpose (with Audio from Input jacks): -6 to +6 (in semitones)

Tempo: Audio Playback Speed: 75 to 125%
Control:
Song Select
Play/Stop
Rec
Rewinding
Fast-forwarding
Reset
Tempo
All Songs Play
Song Balance
AB Repeat
Center Cancel (with Audio from Input jacks)

Digiscore Display
Score Display: Great Staff, G Clef, F Clef
Mark: Notation Mark, Pitch Name, Lyrics, Chord, Finger Number
Sizes:
Small (32 measures *)
Medium (15 measures *)
Large (8 measures *)
With note names (2 measures *)
* Use default setting.
Function: Auto Sync, Keyboard indication