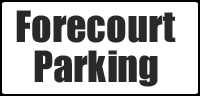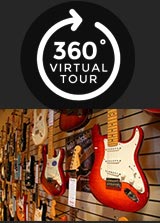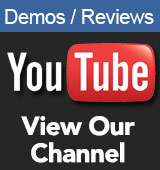 Opening Times
Mon/ Fri/ Sat
9.00am - 5.30pm


Tue/ Wed/ Thur
9.00am - 8.00pm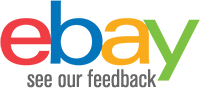 Contact Us
Sales

01772 722468

Email:

sales@achamilton.co.uk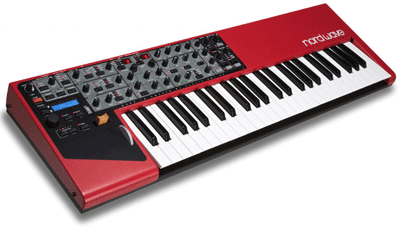 Nord NordWave
£1600 RRP £1949.00
Available to Order
Estimated delivery Call 01772 722468 for confirmation
Example Deposit: £160.00
Below are example finance options available for you. The deposit amount is adjustable at checkout to suit you.
12 Months at 9.9% APR - £126.24 P/M
24 Months 9.9% APR - £66.10 P/M
36 Months 15.9% APR - £49.81 P/M
Nord Wave is the MIPA Award Winner for Best Synthesizer Hardware Category 2009.
Integrate digital samples in an analogue environment. Massive waveform capabilities, filters and effects will generate sounds most definitely never heard before. The Nord wave is much more than just a synthesizer. By combining analogue, FM synthesis, wavetable and sampled waveforms, yes any audio sampled waveform, you will be able to manipulate and play sounds like no one else.
Quality Supersedes Quantity
The Nord wave contains many high quality samples. The sound quality is not determined by how many Kb the samples are but by how much detail is preserved in the sample. The Wave has a superior selection installed which have been brought in by some of the best names such as Kirk Hunter Studios and Sonic Reality. However, new ones are readily available from the Clavias website - click here.
So what is the Nord Wave all about?
By having two oscillators capable of producing a vast array of sounds from classic analog waveforms (with sync), via FM-synthesis, wavetables, sampled waves (single cycle waveforms with attack) as well as noise and other miscellaneous waveforms to playback of sampled waveforms, the nord wave has an unprecedented pallet of sounds for you to use as foundation. The Nord Wave provides 180Mb of space for user samples.
You need a rich and full string quartet? Just bring up the samples. A highly resonant screaming lead? Sure, virtual analog is there, but why not combine them - not just mix them together but create an analog sound with the harmonic content of the sampled string quartet! You can even switch between 2 different samples without any sustaining notes getting cut off using the A/ B Panel buttons. The Nord Wave truly has it all.
Within moments you will experience sounds never heard before; sounds that will function as a great source of inspiration and lift your playing and sound design to new levels.
User Friendly Interface
The Nord Wave stores files into flash memory so sounds are instantly available meaning even complex data is loaded in an instant. No hard drive or other media needed for storing  samples when you shut down the Wave synthesizer. Once it has powered up you have direct access to all samples at the turn of a knob.
Software manager for PC or Mac
The Nord Wave manager software is designed to keep everything neat, simple and efficient. Back up and re-arrange programs and sample, transfer sample instrument files or map your own audio across the keyboard. The Nord Wave manager also includes tools for arranging and adjusting samples. It provides all the visual tools in an instant so oyu do not have to spend all day just sorting out your sounds on the computer. It is the best way to get your samples into the analogue environment of the Nord Wave synthesizer.
Whether you are at home or on stage the Nord Wave has something for you. Unique sound shaping and creation, instant hands on control and many many functions. It is great value and a very unique way to create sounds.
Nord Wave Specifications:
GENERAL
4 octave (49-keys) velocity and aftertouch sensitive keyboard
189Mb Flash Memory (180Mb for user samples)
18 stereo voices
Wooden Pitch Stick
Modulation Wheel
LCD-window and Value Dial
Master Level Control
3 Morph Sources (Modulation Wheel / Control Pedal, Note Number, Note Velocity)
SYNTH SECTION
2 part multitimbral synth section consisting of the following:
OSC1:

Triangle, Square, Saw (with sync), 62 wavetables, 2-operator FM, Noise.

OSC2:

Triangle, Square, Saw, up to 99 Sampled Instruments (user defined), 2-operator FM, 22 Sampled Waves. Transpose and Fine Tune.

Oscillator Modulation:

Frequency Modulation or Phase Modulation with Amount Control.

Filter:

6 types of single or multi mode filters with Frequency, Resonance, Keyboard Tracking and Envelope control.

Amplifier Envelope:

ADSR controls.

Modulation Envelope:

selectable AD or AR controls.

LFO 1 Waveforms:

Square, inverted Saw, Triangle, Random and Soft Random.

LFO 2 Waveforms:

Square, Saw, Triangle, Random and Soft Random.

Mono Mode:

Mono or Legato with Glide-function.

Chorus:

3 intensity settings.

EQ:

2-band fixed.
Output Level
PROGRAM SECTION
1024 program locations
Slot A & B buttons
Octave Shift
EFFECT SECTION
Tube style Overdrive
Stereo Delay with tap-tempo function.
Reverb with 5 algorithms
INCLUDED ACCESSORIES
Owners Manual
Power Cord
Nord CD/DVD-ROM
CONNECTIONS
2 Line Level Audio Outputs
Stereo Headphone Output
Sustain Pedal
Control Pedal
USB-interface
MIDI in & out
DIMENSIONS
870 x 274 x 98mm, 34.3 x 10.8 x 3.9 inches
WEIGHT