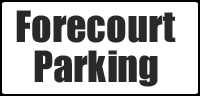 Opening Times
Mon - Sat
9.00am - 5.30pm


Contact Us
Sales:

01772 722468

Email:

sales@achamilton.co.uk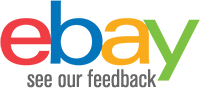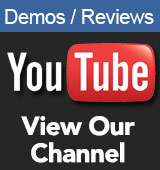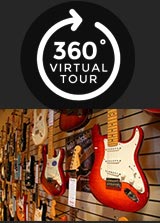 **We Are Open for Mail Order, Telephone Enquiries and Product Support**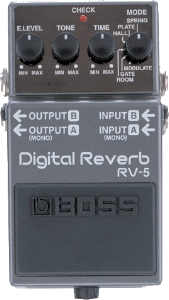 Boss RV-5 Stereo Reverb Guitar Pedal
The RV-5 Digital Reverb offers six of Boss` best reverbs in an all-new stereo effects pedal. New reverbs include convincing spring reverb emulation and a high-quality gate reverb, plus an all-new Modulate mode for spacious detuned reverb sounds.
Boss pedals are known worldwide for their great sounds and features, and are built to withstand the heavy-duty attacks the guitarist sends their way. They are the most respected and sought-after tone tools around; the classy effects on records often give a song the professional gloss.
Multiple Effects Pedal
One of the most popular models in the Boss collection, the end result is a smooth reverb that really sounds genuine and not a digital sample. It includes spring, plate, hall, room, gate and modulate, so there are plenty of settings to get that sound that helps solos cut through or make a clean section sound that bit sweeter.
Wide Ranging Performance
The pedal also contains a level, tone and time control. So you can have plenty of small reverb or a small amount of a great big church hall. This pedal really has some great sounds seriously helps make your solos stand out in the mix.
The Boss RV-5 Stereo Reverb Features:
Compact pedal with stereo input/output for use with other stereo effects
High-quality reverb modes on par with rackmount processors
New Spring reverb emulation offers realistic spring reverb sounds
New Gate reverb derived from high-end Roland studio gear
Modulate mode detunes the reverb sound for added spaciousness
9-Volt battery included
Nominal Input Level

-20 dBu

Input Impedance

1 M ohms

Nominal Output Level

-20 dBu

Output Impedance

1 k ohms

Recommended Load Impedance

10 k ohms or greater

Residual Noise

-93 dBu (IHF-A, Typ.): All knobs at center position

Controls

Pedal Switch, E.LEVEL knob, TONE knob, TIME knob, MODE switch

Connectors

INPUT-A (MONO) jack, INPUT-B jack, OUTPUT-A (MONO) jack, OUTPUT-B jack, AC adaptor jack (DC 9 V)

Power Supply

DC 9 V: Dry battery (9 V type), AC Adaptor

Current Draw

50 mA (DC 9 V)

Accessories

Dry battery (9 V type) S-006P/9 V (6F22/9 V)
Owners Manual

Options

AC Adaptor PSA-Series

Size and Weight ( incl. battery )

Width

73 mm
2-7/8 inches

Depth

129 mm
5-1/8 inches

Height

59 mm
2-3/8 inches

Weight

0.4 kg
1 lbs.

*The specifications are subject to change without notice.