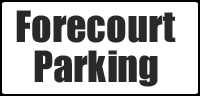 Opening Times
Mon - Sat
9.00am - 5.30pm


Contact Us
Sales:

01772 722468

Email:

sales@achamilton.co.uk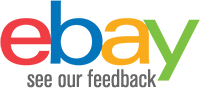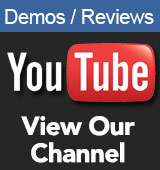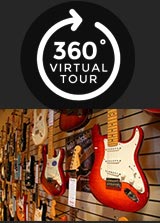 **We Are Open for Mail Order, Telephone Enquiries and Product Support**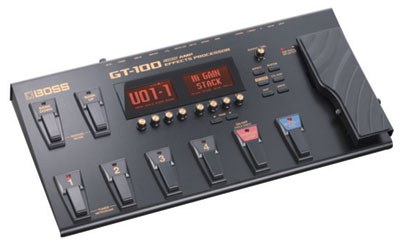 Boss GT-100 Guitar Mega Multi-Effects with Amp Modelling
£316.00 RRP £395
Out of Stock
Available to Order Estimated delivery Call 01772 722468

Pay Monthly
Deposit From £31.60
12 Months 19.9% APR - £26.11 P/M
24 Months 19.9% APR - £14.23 P/M
36 Months 19.9% APR - £10.32 P/M
The next generation Boss GT-100 Multi-Effects processor has arrived. The new Boss effects flagship boasts next-generation amp modelling that recreates vintage amps as well as providing new COSM tones that cut through on stage.
Boss introduces the GT100 Amp Effects Processor, the latest addition to the GT-series lineup of floor-based multi-effects units for guitarists. Driven by a powerful new BOSS DSP engine, the GT100 is the most advanced GT ever, loaded with newly developed, ultra-responsive COSM amps, updated effects with enhanced real-time control options, dual displays for easy sound programming, and more.
Boss has completely remodeled all of the COSM amps in the GT100. Reaching far beyond conventional vintage amp modeling, the GT100 includes a host of all-new amps that deliver amazingly transparent clean tones to ultra-high gain modern sounds and everything in between.
At the core of the GT100 is Boss new proprietary DSP chip, a blazing-fast processor that provides unparalleled muscle for COSM amps and effects. Thanks to this powerful new chip, the GT-100's COSM amps sound better than ever before, with a dynamic touch and response that truly captures the feel and expressiveness of the world's finest tube-based amplifiers.
The GT100 is also a powerful multi-effects processor packed with a huge array of effects, including overdrives, distortions, delays, pitch shifters, modulation, reverb, and many more. The newly developed ACCEL pedal lets players creative explosive effects in live performance by adjusting multiple effects parameters in real time with one simple foot press.
The GT100's user interface has been completely redesigned as well, offering easy, intuitive operation that greatly improves on previous designs. Dual displays make navigation simple while programming tones, with intuitive parameter adjustment via easy-to-grab knobs. The GT-100 also includes the acclaimed EZ TONE, which gives everyone from beginners to pros the ability to dial up world-class tones with just a few tweaks. AMP CUSTOMIZE and OD/DS CUSTOMIZE functions, which enable to create original amps and OD/DS, are newly added to EZ TONE.
Housed in a road-tested, all-metal GT chassis with a sleek black finish, the GT100 is ready for action on stage and in the studio. Eight onboard foot switches provide control over patch selection, as well as immediate access to the built-in Phrase Looper and ACCEL functions. The integrated heavy-duty expression pedal offers foot control over volume, wah, pitch effects, and more. Additionally, the new quick-access Manual mode instantly transforms the GT100 from a patch-based multi-effects unit to a pedalboard full of stomps with individual on/off control.
AD Conversion

24 bits + AF method (*1)

DA Conversion

24 bits

Sampling Rate

44.1 kHz

Program Memories

400: 200 (User) + 200 (Preset)

Effect Type

COMP, PREAMP(*1), OD/DS(*2), EQ, FX1/FX2(*3), DELAY, CHORUS, REVERB, PEDAL FX, NS1/NS2, ACCEL FX

*1 PREAMP
NATURAL CLEAN, FULL RANGE, COMBO CRUNCH, STACK CRUNCH, HiGAIN STACK, POWER DRIVE, EXTREME LEAD, CORE METAL, JC-120, CLEAN TWIN, PRO CRUNCH, TWEED, DELUXE CRUNCH, VO DRIVE, VO LEAD, MATCH DRIVE, BG LEAD, BG DRIVE, MS1959 I, MS1959 I+II, R-FIER VINTAGE, R-FIER MODERN, T-AMP LEAD, SLDN, 5150 DRIVE, BGNR UB METAL*, ORNG ROCK REVERB*, CUSTOM

*2 OD/DS
MID BOOST, CLEAN BOOST, TREBLE BOOST, CRUNCH, NATURAL OD, WARM OD, FAT DS, LEAD DS, METAL DS, OCT FUZZ, A-DIST*, BLUES OD, OD-1, T-SCREAM, TURBO OD, DIST, RAT, GUV DS, DST+, METAL ZONE, '60S FUZZ, MUFF FACE, CUSTOM

*3 FX1/FX2
T.WAH, AUTO WAH, SUB WAH, ADV. COMP, LIMITER, SUB OD/DS, GRAPHIC EQ, PARA EQ, TONE MODIFY, GUITAR SIM., AC.GUITAR SIM*, SLOW GEAR, DEFRETTER, WAVE SYNTH, SITAR SIM., OCTAVE, PITCH SHIFTER, HARMONIST, OVERTONE*, SOUND HOLD, AC. PROCESSOR, PHASER, FLANGER, TREMOLO, ROTARY1, ROTARY2*, UNI-V, PAN, SLICER, VIBRATO, RING MOD., HUMANIZER, 2X2 CHORUS, SUB DELAY, TERA ECHO*

*Newly Added Features (Version 2.0)
A-DIST is available in OD/DS and in SUB OD/DS of FX2.
OVERTONE and TERA ECHO are only available in FX2.

Nominal Input Level

INPUT: -10 dBu
RETURN: -10 dBu
AUX IN: -20 dBu

Input Impedance

INPUT: 1 M ohm
RETURN: 100 k ohms
AUX IN: 47 k ohms

Nominal Output Level

OUTPUT: -10 dBu/+4 dBu
SEND: -10 dBu

Output Impedance

OUTPUT: 2 k ohms
SEND: 2 k ohms

Dynamic Range

100 dB or greater (IHF-A)

Displays

Graphic LCD (132 x 64 dots, backlit LCD) x 2

Connectors

INPUT jack (1/4-inch phone type)
AUX IN jack (Stereo miniature phone type)
OUTPUT L/MONO, R jacks (1/4-inch phone type)
PHONES jack (Stereo 1/4-inch phone type)
EXT LOOP jacks (SEND, RETURN; 1/4-inch phone type)
AMP CONTROL jack (1/4-inch phone type)
SUB CTL1, 2/SUB EXP jack (1/4-inch TRS phone type)
USB port
MIDI connectors (IN, OUT)
DC IN jack

Power Supply

DC 9 V

Current Draw

600 mA

Accessories

AC Adaptor
USB Cap
Owner's Manual

Options (sold separately)

Footswitch: BOSS FS-5U
Dual Footswitch: BOSS FS-6, BOSS FS-7
Expression Pedal: BOSS FV-500L/500H, Roland EV-5

Size and Weight

Width (W)

542 mm
21-3/8 inches

Depth (D)

271 mm
10-11/16 inches

Height (H)

80 mm
3-3/16 inches

Weight

4.8 kg
10 lbs. 10 oz.

*1 AF method (Adaptive Focus method) is a proprietary method from Roland & BOSS that vastly improves the signal-to-noise (S/N) ratio of the A/D and D/A converters.
*0 dBu = 0.775 Vrms

All specifications and appearances are subject to change.