Technics KN6000
The Technics KN6000 is a completely re-designed Technics keyboard. It had to be special to follow the Technics KN5000 Keyboard.
Sounds
The Technics KN6000 Keyboardhas undergone a complete transformation. Technics have developed a brand new sound engine, resampled nearly all of the current sounds, sampled and added brand new sounds. There are over 1000 sounds on the Technics KN6000.
Rhythms
Technics have broken free from their traditional 5 rhythm parts and expanded it to 8. Effects can now be added to the sounds in the rhythm section, another first for Technics Musical Instruments. Using rhythms currently available on Technics instruments just wouldn't work for the KN6000. All the rhythms are brand new and programmed by the very best musicians
NX Sound
General Midi has added new dimensions to music making. we are able to communicate between Electronic Musical instruments, to computers even over the internet. General Midi with it's original 128 voices has been outgrown. Roland have GS , Yamaha XG, The Technics KN6000 Keyboard introduces NX a new standard by Technics Musical Instruments. NX undestands all current systems, GM, GM2, XG and GS and introduces some of it's own parameters, in addition to sequence information the KN6000 keyboard allows you to convert styles from all Musical Instrument manafacturers and from previous models of Technics Musical Instruments. If you want to upgrade but have loads of software compatable with you present instrument don't worry: it's compatable with the Technics KN6000 keyboard.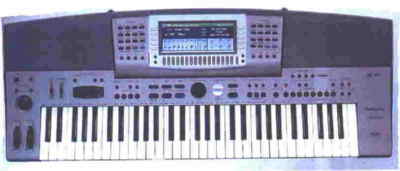 Display
Every musician is different, we all like to play our instrument in a way that suits us. Technics , once again, are at the forefront of useability. You are able to change the screen to show information that suits you. You can redesign the "Homepage", that is the screen that the Technics KN6000 defaults to. Keep it simple or have as much information as you like before you. One of the greatest problems of having so much choice is that it can be confusing, even this added feature makes the instrument more complex. the clever chaps at Technics Musical Instruments have thought of this, there is a choice of predesigned layouts ready for you.
Custom
"Custom" refers to any section of the keyboard where you can alter something to suit yourself. The registration memories (Panel Memories) allow you to save you sounds together with a rhythm to suiit a particular tune, this is a custom section. Other examples are Sound Memory, Custom Styles, the Sequencer, Manual Sequence Pads. In addition to these the Technics KN6000 keyboard allows us to customise the Display, the Music Style Arranger. All the "Custom" sections are stored in "Flash ROM", or in laymans terms, you don't lose your settings when you turn the instrument off.
Disc Drive
All data is compressed on the Technics KN6000. This means that saving takes less time and more can be saved.
Music Rest
The Technics KN6000 Keyboard has a substantial music rest.
Vocal Harmoniser
The Technics KN6000 incorporates a complete vocal harmoniser and brasseliserThe Vocal harmoniser adds voice harmonies to you singing and the brasseliser converts your voice into a high quality brass instrument. Most importantly it is a feature that is easy to use. Great for home caberet and professionals alike.
Specifications Technics KN6000 Keyboard
61 keys, touch sensitive, aftertouch
64 note polyphoney
1000 preset sounds, 40 user(custom)sounds
2 digital drawbars
33 drum kits 1 user drum kit
comprehensive effects
200 rhythms x 4 variations, 20 user rhythms, all 8 part
panel memory 13 banks x 8
technicord x 14 variations
Auto-play chord,single fingered, fingered, pianist, on bass
sequencer 40,000 notes 16 tracks
composer 18000 notes
NX GM GM2 XG GS compatable
18watts x 2 +30watts x1 bass
dimensions 42"x8"x17"
weight 15.4 kg
For a quotation on any Technics keyboards email us;
For further information or a brochure on any Technics keyboard email us;