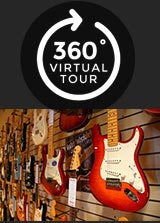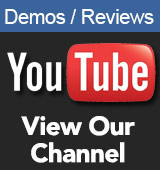 Opening Times
Mon / Fri / Sat
9.00am - 5.30pm


Tue / Wed / Thur
9.00am - 8.30pm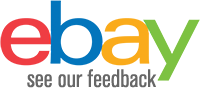 Contact Us
Sales

01772 722468

Email:

sales@achamilton.co.uk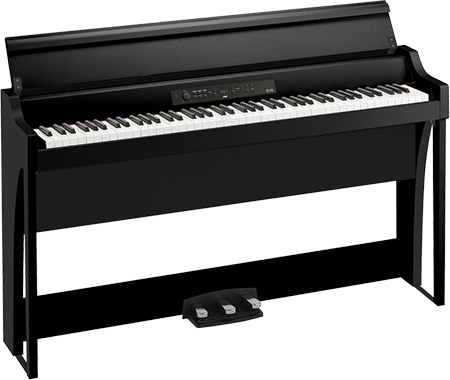 Korg G1 Air Black
£999.00 RRP £1249
1 In Stock
Example Deposit: £99.90
Below are example finance options available for you. The deposit amount is adjustable at checkout to suit you.
12 Months 19.9% APR - £82.55 P/M
24 Months 19.9% APR - £45.01 P/M
36 Month 19.9% APR - £32.63 P/M
The Korg G1 air is a contemporary, slim line digital piano with KRONOS piano technology combined with bluetooth caabilities and a simple intuitive operation. It is an ideal home piano for learners and professionals alike.
Designed with focus on your piano playing experience, the Korg G1 Air in black looks stunning, sounds stunning and has all the advantages of a digital piano with the realistic sound of a grand piano. With reproduction of three of the worlds greatest pianos, string and damper resonance, a selection of essential sounds, RH3 hammer action keyboard and built in Bluetooth.
Main Features:
The sound of three of the world's finest concert grand pianos
Multiple-layer samples for ultimate realism
Digital recreation of grand piano string and damper resonance for ultimate realism
RH3 keyboard accurately simulates acoustic piano touch and response
Newly developed amplification and speaker system
Contemporary design cabinet available in 3 color options
Bluetooth audio playback
Made in Japan - Premium Japanese Quality
G1 Air Pianos
Its all about the pianos; The Korg's G1 Air has three of the worlds greatest pianos sampled with exquisite detail and all instantly accessible on the front panel. The pianos include a German Grand, Austrian Concert Piano and Japanese Grand. Each piano is detailed with string and damper resonance and all played using the superb RH3 (Real Hammer 3) piano keyboard. With a real piano feel and top class sounds the G1 Air provides everything the budding pianist needs in a compact, contemporary package.
Three Pedals And Half Damper Facility
The G1 is equipped with the full complement of three pedals found on a grand piano: damper, soft and sostenuto. The damper and soft pedals also feature half-pedaling for even more detailed expression.
Bluetooth Audio
Practically every smartphone, MP3 player and computer is equipped with Bluetooth technology nowadays. The G1 Air has Bluetooth audio playback capabilities which means you can connect your Bluetooth device and play audio direct through the amplification in the piano. You can play along with your favourite tracks, acapellas, backing tracks and more without the need for any wires!
High Quality Custom Amplifier And Speakers
To convey the high quality sounds of the built-in instruments and your audio files Korg's G1 Air is equipped with a high quality amplifier and speaker system. With two large-diameter speakers placed below the keyboard in a resonant enclosure, the full dynamic range of sound is conveyed directly to the player, while high-frequency tones are presented by a pair of speakers mounted above the keyboard. In conjunction with resonances from the cabinet, these provide a rich piano tone, reflecting off the key cover and delivering indirect acoustics similar to those of a traditional instrument. The amplifier section provides 20W of output power for each of the four speakers, delivering up to 80W of sound of the highest quality.
Technical Specification
Keyboard: 88 key (A0-C8), RH3 (Real Weighted Hammer Action 3) Keyboard
Touch Selection: Five types
Pitch: Transpose, Master tuning
Temperament: Nine type
Sound Generation: Stereo PCM
Maximum Polyphony: 120 voices (max)
Sounds: 29 sounds + 3 bass sounds
Effects: Brilliance, Reverb and Chorus (3 levels each)
Recorder: 2 track*, Maximum 45,000 notes (400k bytes) *: It is not possible to change the sound per track.
Demo Songs: 50 (Sound Demos: 10, Piano Songs: 40)
Metronome: Tempo, beat, sounds, level
Pedals: Damper*, Soft*, Sostenuto *: Half-pedaling supported
Connections: LINE OUT, MIDI (IN, OUT), USB, Headphones x 2, Pedal, Speakers, DC 24V
Controls: Power, VOLUME, G.PIANO, A.PIANO, J.PIANO, OTHERS, FAVORITE, SPLIT, FUNCTION, SELECT, TEMPO (+, -), METRONOME, PLAY/PAUSE, STOP, REC, PART1, PART2
Wireless Method: Bluetooth(A2DP Sink)
Speakers: 12 cm (4.72") x 2, 5 cm (1.97") x 2
Output Power: (20 W + 20 W) x 2
Power Supply: DC 24v
Power Consumption: 28 W
Dimensions (W x D x H):
1,346 mm x 384 mm x 822 mm/52.99" x 15.12" x 32.36"
1,346 mm x 384 mm x 985 mm/ 52.99" x 15.12" x 38.78" (with key cover opened)
Weight: 41 kg/90.39 lbs. (including stand)
Included Items: AC adapter, dedicated stand